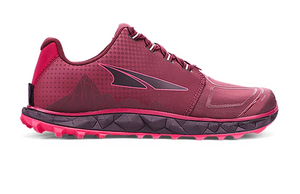 Lightweight. Fast. Grippy. Fast. Responsive. Fast. There are many words to describe the speedy Superior 4.5. The Quantic™ midsole offers a lightweight yet responsive ride for high-speed trail days. TheMaxTrac™ outsole and multi-directional lug pattern brings grippy traction to any terrain. The improved upper brings better breathability and durability. And finally, the removable StoneGuard™ offers lightweight rock protection for when the trails get extra rugged.

FEATURES
FOOTSHAPE™FOOTSHAPE™Our signature FootShape™ comfort gives your feet more space to sit naturally and is designed to address biological differences in men's and women's feet.
BALANCED CUSHIONING™BALANCED CUSHIONING™Our Balanced Cushioning™ platform positions your heel and forefoot at an equal distance from the ground, encouraging better alignment, better form, and a low impact landing.
QUANTIC™QUANTIC™Our Quantic™ foam offers a luxurious and lightweight cushioned midsole, designed for miles and miles of comfort.
MAXTRAC™MAXTRAC™Our grippy MaxTrac™ outsole provides the perfect combination of grip, traction, and durability on all types of terrain.
TRAILCLAW™TRAILCLAW™These canted lugs on the outsole are strategically placed beneath the metatarsals to provide added traction underfoot.
GAITERTRAP™GAITERTRAP™This hook-and-loop tab allows our strapless gaiter to easily attach to the shoe, adding protection against rocks and debris.
INNERFLEX™INNERFLEX™These grid-like grooves in the midsole are designed to provide flexibility and movement.