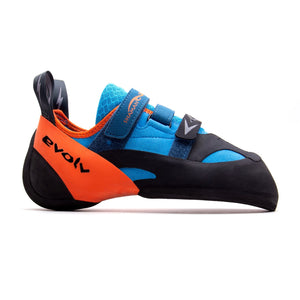 Building off the legacy of the original, the newly redesigned Shaman has an improved fit in terms of engineered comfort and performance with more toe rubber for toe hooking and an inset front strap for better medial side toe scumming. The "Love Bump" and "Knuckle Box" Technology creates the perfect downturned toe fit for powerful edging, pulling and toe hooking. Enjoy the legendary performance with next-level comfort.

FEATURES:
VEGAN FRIENDLY SYNTHETIC - Synthratek VX synthetic upper.
LOVE BUMP - Fills dead space under your toes while putting much needed energy towards the edging surface.
AGGRESSIVE DOWN-CAMBERED ARCH AND DOWNTURNED TOE PROFILE - For maximum performance.
KNUCKLE BOX - Makes room for your big toe knuckle to rest in a curled position without having to push fabric and rubber out of the way which causes hot spots in other shoes.
SPLIT TONGUE - Gives maximum comfort and easy on and off.
THREE STRAP CLOSURE - Supportive and powerful fit with easy on and off.
SPLIT OUTSOLE - For flexibility through the arch.
MOLDED VTR - Our Variable Thickness Rand (VTR) system puts thinner rand rubber in areas to reduce pressure points and hot spots around the foot as well as thicker rubber for increased longevity in the high wear zones near the toe for durability and performance.
TRAX® SAS - Best friction plus maximum durability.