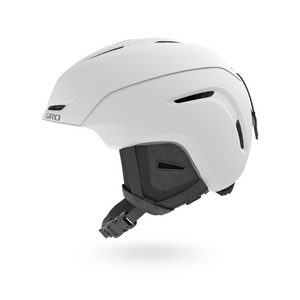 REFINED AND RELOADED
The Avera™ helmet is the new foundation in the Giro helmet line and a new favorite. The Avera benefits from lightweight in-mold construction and features a personalized fit via the In Form™ Fit System with Vertical Tuning. Meanwhile, on-the-go temperature control for maximum warmth or cooling is achieved through Thermostat Control™ Adjustable Venting combined with the fog-free Stack Vent. The new Avera truly provides the perfect fit, plush comfort and added protection needed for all conditions and terrain.
Features
IN-MOLD CONSTRUCTION
In-Mold Construction fuses a tough polycarbonate outer shell with the helmet's impact-absorbing foam liner. The fusion process allows for better ventilation systems, making In-Mold helmets lighter and cooler than traditional helmets.
IN FORM FIT SYSTEM
The In Form Fit System makes it easy to dial in a custom fit in seconds—even with gloves on. An ergo-friendly dial at the base of the helmet provides up to 6cm of adjustment and enhanced stability. The Vertical Tuning feature accommodates different goggles and head shapes for a custom fit free of gaper gap.
THERMOSTAT CONTROL™
Thermostat Control Adjustable Venting control allows you to custom-tune airflow instantly with a simple, low profile control button on the outside of the helmet. No other system is faster or easier to adjust, and nothing is more effective at keeping you comfortable.
STACK VENT™ TECHNOLOGY
Our Stack Vent™ was developed based on research showing the majority of warm air that can cause fogging comes from the goggle's center top vent. Aligning the Stack Vent in the helmet with the center vent of the goggle helps keep it clear and fog-free.
SEAMLESS COMPATIBILITY