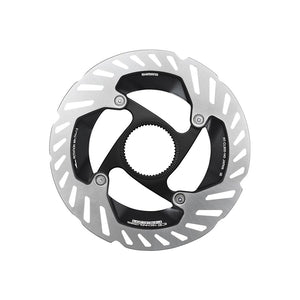 Shimano's flagship disc brake rotor. Quieter than ever, but with superb, consistent braking performance on any long, steep descents thanks to excellent heat dissipation.
The new arm shape is more robust, leading to quieter operation.
Featuring ICE TECHNOLOGIES and FREEZA; ICE TECHNOLOGIES is a proprietary fabrication technique consisting of a 3-layer aluminum and stainless-steel structure allowing for superior cooling. FREEZA are aluminum/stainless fins that support rapid heat dissipation. Combined you get longer pad life, less brake fade and substantially quieter braking. The inner aluminum surface of the FREEZA fins is covered with heat-dissipating paint. Providing even more colling performance to reduce brake fade.
Recommended both for road or mountain bike braking systems.
Lock-ring included.